Talk is cheap and the UCP has an election to win. Calgary is the crucial battleground. Turning City Hall opponents into allies with a stake in your victory is not a dumb approach
Content of the article
Premier Danielle Smith and her team are rolling the political snowball. One day it's a big change in health care, the next the province is seriously talking about an LRT link to the airport.
Content of the article
Smith told me in a recent interview that she was very interested in the airport link. Some people thought she didn't know what she was talking about because no such plan is officially in the works at City Hall.
Content of the article
But it wasn't just a disposable line.
On Tuesday, Smith sent a letter to Mayor Jyoti Gondek offering full provincial assistance and cooperation to develop a plan – not just for an airport link, but passenger train to Canmore and Banff also.
Smith later summed up his attitude in a statement: "We have to avoid being myopic as a province – we have lost the Olympics, the World Cup, have an old stadium in Calgary and have chronic traffic jams with the one of the greatest tourist sites. attractions on the planet, Banff and K-Country.
"Calgary and Edmonton are world-class cities and they both need world-class infrastructure.
Content of the article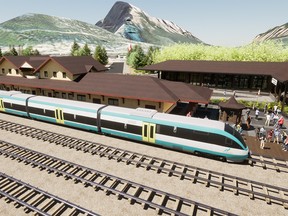 Gondek praised Smith's letter. What mayor wouldn't, especially after former Prime Minister Jason Kenney's team spent many months blocking the first phase of the Green Line? Former Transport Minister Ric McIver's "due diligence" looked like willful negligence.
In August, the ex-prime minister also threw a wet blanket on Liricon Capital's existing private plan for a Calgary-Banff route, saying "so far we haven't seen an economic case".
But Smith is enthusiastic about the idea, if not the specific plan.
She states in her letter, "Such a line would benefit Calgarians, Albertans and all visitors to our province by providing access to one of the world's greatest natural wonders: our provincial and national network of mountains.
Content of the article
"It would also significantly boost international and domestic tourism while improving road safety and reducing pressure on Highway 1 between Calgary and Banff as population and tourist traffic continue to grow."
Gondek says the letter "sends a clear signal that the province is very interested in strong transit and transportation options. . . to think that our provincial government is able to support us is actually very good news for Calgary.
Content of the article
The mayor also noted that those plans had been rejected for ages.
Bitter local opposition to the Green Line remains, particularly among conservatives who believe it is an impending fiscal disaster. Calgary Nose Hill MP Michelle Rempel objected that her north-central region could lose a long-planned LRT to "projects that may have a tourism bent."
Is Smith really serious?
Talk is cheap and the UCP has an election to win. Calgary is the crucial battleground. Turning City Hall opponents into allies with a stake in your victory is not a dumb approach.
But Smith undeniably has a broad view of economic development that may well mean serious spending on big projects.
Devin Dreeshen, the new transport minister, is also in charge of "economic corridors" – a big Smith theme that calls for new approaches to moving people, goods and energy.
Content of the article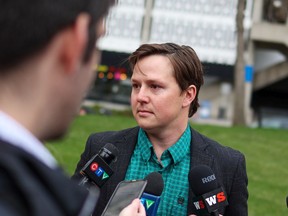 Dreeshen said in an interview that Calgary and Edmonton airports are extremely important because (like Saskatchewan) we don't have direct port access.
"As an economic axis, we want to expand our airports as much as possible. The cities set the priorities, but we really encourage them to do these feasibility studies.
Dreeshen said he would also seriously consider a plan for an LRT link to Edmonton airport.
People have a right to be as dubious as they want about Smith's stimulus and pre-election plans, which also include support for a new arena and event center in Calgary.
But its openness to dealing in cooperation with cities seems genuine; and as big dreams go, these aren't bad.
Don Braid's column appears regularly in the Herald
Twitter: @DonBraid