Russia appears set to resume gas supplies through a key pipeline to Europe, a relief for markets even as fears persist over further shutdowns this winter. Prices fell 16%.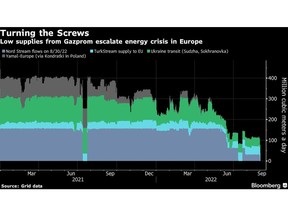 Content of the article
(Bloomberg) – Russia appears poised to resume gas supplies via a key pipeline to Europe, a relief for markets even as fears persist over further shutdowns this winter. Prices fell 16%.
Content of the article
That will bring some consolation to policymakers who feared Moscow might decide against turning the gas back on after the last maintenance. But Europe is expected to remain on edge throughout the winter, with soaring prices ravaging its economies. Germany has said it cannot rely on Russian gas at all during the colder months and the government is preparing for Gazprom PJSC to call for another shutdown for repairs as early as next month.
Content of the article
Gazprom said the only functioning turbine at the Nord Stream entry point must undergo technical maintenance every 1,000 hours. This is approximately every 42 days, with the next checks scheduled for mid-October. Only one turbine is capable of pumping gas through the pipeline at the moment, without any backup, which means "the safety of the whole system is at risk", the Kremlin said on Friday.
Content of the article
Shipping orders, issued by the pipeline operator, say flows are expected to restart from 2 a.m. Berlin time on Saturday at 20% of normal capacity, the same level as before the works. Orders do not guarantee actual flows and it normally takes time for supplies to return to expected levels. Russian Deputy Prime Minister Alexander Novak signaled on Thursday that the country was on schedule, according to the Tass news service.
Gazprom cut supplies through Nord Stream in June and deepened the cut in July, shortly after the pipeline's seasonal maintenance, citing technical issues. Flows were halted on Wednesday for checks on the only operating turbine that helps pump gas into the link. Normally it uses six large turbines and two smaller ones, but this summer most of the equipment was taken out of service, with Gazprom citing international sanctions that have disrupted maintenance and repairs.
Content of the article
The European Union has prepared for disruption. The region has raced to stockpile gas for the upcoming heating season, hitting its target two months ahead of schedule and mitigating any immediate threats.
Dutch first month gas, the benchmark for Europe was 12% lower at 212.90 euros per megawatt hour at 12:22 a.m. in Amsterdam. They are heading for the biggest weekly loss ever. The UK equivalent fell 16%.
German electricity for next year fell 3.5%, reversing an earlier increase, as the European Commission decided to take action to rein in electricity prices. They include reducing electricity demand and price caps for renewables, nuclear and coal.
Read more: EU sees limits to what electricity price intervention can achieve
Content of the article
"The market response is likely to be bearish as governments across Europe intervene directly in energy markets to drive prices down," consultancy Inspired Plc said in a note.
High gas prices are already eroding demand, Wood Mackenzie Ltd. estimating that European industry will use 16% less this year. This will help fill inventory, he said.
Lower consumption, along with higher inventories and supplies from alternative sources, could help offset Russia's risks at the moment. But the Nord Stream's frequent shutdowns would be an indicator of how far Russia is willing to go, which means more risk this winter, especially if it's cold.
'High risk'
"Although widespread rationing in the EU is not inevitable, even in a shutdown scenario, it would represent a high risk in some countries, including Germany," Fitch Ratings said in a note on Thursday. "Recession in the eurozone now looks likely due to the worsening gas crisis."
Content of the article
It is not yet known when other Nord Stream wind turbines that are offline could be repaired. This may have to happen either locally or in Canada where they were produced.
For the remaining unit, regular maintenance is due to technical requirements provided by the manufacturer Siemens, according to Gazprom. This means repeated shutdowns if the situation with other wind turbines does not change by October.
A spare part that could boost deliveries has been stuck in Germany after repairs in Montreal, with Moscow and Berlin arguing over the paperwork needed to allow it to return to Russia.
Uncertainty about future supplies from Russia could extend beyond this winter. The severity of the winter and the level of stocks at the end of the season, the progress of the installation of a new liquefied natural gas terminal and the competition with Asia for LNG will determine the state of the market in spring.
"A cold Northern Hemisphere winter would leave European stocks only 4% full by the end of winter," Wood Mackenzie said. "Delays in new LNG import infrastructure or further disruptions to Russian flows will further reduce Europe's ability to replenish storage stocks next summer."